Families affected by cerebral palsy can benefit from joining organizations that offer emotional support. Cerebral palsy organizations can help parents and caregivers feel like they are not alone as they care for a child with this condition.
Whether families attend a local meet-up or join an online group, support organizations instill an important sense of comfort and community.
Support communities are a great place for new parents to get tips and advice from those who have already raised children with cerebral palsy. By talking with people who have been in their shoes, parents and caregivers can come out feeling more prepared for their family's future.
Cerebral palsy support groups help to:
Find reassurance and understanding
Let families know that their struggles are normal
Offer hope and an optimistic perspective
Provide a platform to share obstacles and achievements
Relieve stress and frustration
National Support Groups
There are a number of cerebral palsy support groups available to families across the country. These groups ensure that children and parents nationwide have access to the resources and support they need.
The March of Dimes' mission is to improve health and wellness for new mothers and babies. Their expansive support community provides a place to share stories through various online discussion boards and forums. They also have a large social network of parents who have experience raising children with special needs.
If you are feeling overwhelmed in your search for community support, this organization is a great place to start. March of Dimes connects their members with other parents located in the same part of the country. This is a great way to create a local support system that all parents could benefit from.
This organization was founded by two families that were directly affected by cerebral palsy. Motivated by the desire to build a better life for their children, these parents created Cure CP.
Currently, there is no cure for cerebral palsy. This can be frustrating for anyone affected by this disorder. Cure CP specifically supports research and funding geared toward developing a cure and providing hope for the future.
The Cerebral Palsy Foundation was founded in the 1950s. This organization contributes millions of dollars each year to cerebral palsy research. This includes studies and clinical trials that focus on finding new treatments that increase mobility and improve the overall quality of life for cerebral palsy patients.
In addition to funding research, the Cerebral Palsy Foundation also campaigns to increase the level of federal support for people with the condition. Further, this foundation is a leader in advocating for better educational programs for doctors, nurses, and therapists.
This advocacy group strives to increase federal funding for cerebral palsy research. Reaching For The Stars focuses on improving cerebral palsy treatment methods and finding a cure for this condition.
Reaching For The Stars also founded the "CP Kids Coalition." This is a group of young people who produce articles and engage in discussions about transitioning into adulthood with cerebral palsy, among other topics. This is also a great place for young adults with cerebral palsy to meet other people they can relate to.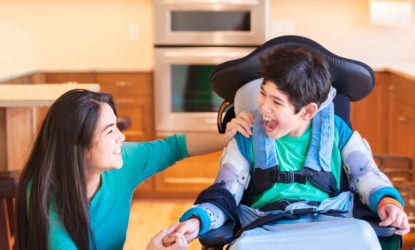 Local Cerebral Palsy Support Organizations
Local family support groups help families across the nation access the resources they need close to home.
The national organizations listed below all offer affiliate programs in many major cities in America. To find an affiliate group near you, simply visit their website and provide your location. You will then be given a list of nearby affiliate groups that provide an array of services for both children and adults with cerebral palsy.
Easter Seals is a nonprofit organization that provides services for more than one million children and adults with autism and other disabilities such as cerebral palsy.
It provides support services for medical rehabilitation, residential services, job training, child care, adult day programs, and recreation. It also offers resources that encourage individuals with various disabilities to achieve their goals.
Family Voices is a community support organization that promotes quality health care for children and young adults with disabilities. Its members work closely with government leaders and medical professionals at national and local levels to ensure that individuals with disabilities have their voices heard.
This non-profit organization was founded in 2003. Its mission is to ensure that families and children with special needs have access to support through an extensive disability community network of resources.
This organization matches experienced, trained "Support Parents" with families in need. Its affiliate groups are typically started by parents of children with disabilities who have been through the process before.
The Arc was founded in the 1950s by parents of children with an array of developmental disabilities. The experiences they had raising children with special needs are what laid the groundwork for their mission and efforts as an organization.
The Arc provides support for families and children with cerebral palsy by offering more than 730 state and local chapters across the country.
The mission of UCP is to educate, advocate, and provide support resources for individuals with disabilities. UCP aims to provide disabled people with the tools to be independent and lead happy, healthy lives.
UCP also pushes for social, legal, and technological changes that would make it easier for individuals with disabilities to achieve their dreams.
Online Cerebral Palsy Support Groups
Many families may find it difficult to make time in their hectic schedules to attend support group meetings and events. Thankfully, there are a variety of online cerebral palsy organizations to help busy parents access the resources and support they need.
Mommies of Miracles is the world's largest online support group for mothers of children with disabilities. Mommies of Miracles provides a network of resources, products, and services that help inspire and educate mothers. This organization also works to match up families in the same area as a way to facilitate local support systems.
This online community provides a vast social network for parents and families of children with special needs. Members are able to share information through an online forum available on their website. Parents in this group can offer support, organize local meetups, and provide inspiration and words of wisdom for other families.
Social Media
Parents can also seek support from other cerebral palsy parents through social media. Facebook has plenty of private groups that bring cerebral palsy families together to connect, give advice, and share stories.
Other social media platforms such as Instagram and Twitter can also connect families to one another through their shared experiences.
After a cerebral palsy diagnosis, you'll likely seek as much information as you can about this condition to help your child. Download our free Cerebral Palsy Guide for information about support groups, treatment options, and more.
Community Cerebral Palsy Support Options for Children
Just like parents, children with cerebral palsy may seek community and support. Children with cerebral palsy may feel alone or different from their peers.
Community cerebral palsy support options such as playgroups, camps, sports, and more help bring children with disabilities together to create a sense of camaraderie and friendship.
Playgroups
Playgroups are a great way for children with physical and cognitive disabilities to learn valuable social skills. Playgroups can be therapeutic for children as they get to meet others with similar disabilities. This can help children gain independence and feel more confident in social settings such as school, daycare, and more.
These groups meet throughout the year and are available in most major U.S. cities. Some local school communities may also have playgroups and meet-ups for disabled children.
Summer Camps
Summer camps for children with cerebral palsy can also help build confidence and independence. Children with a variety of disabilities can participate in swimming, hiking, fishing, crafts, sports, campfires, educational activities, and more at summer camps.
By taking the focus off of their disability, children with cerebral palsy can form meaningful friendships and memories.
The Special Olympics was founded to help children with intellectual disabilities participate in adaptive sports. These sports and activities aim to help disabled athletes build confidence and strength while exposing them to the importance of teamwork.
Your child can participate in a variety of Special Olympics sports on a local, regional, and national level.
Images Courtesy: